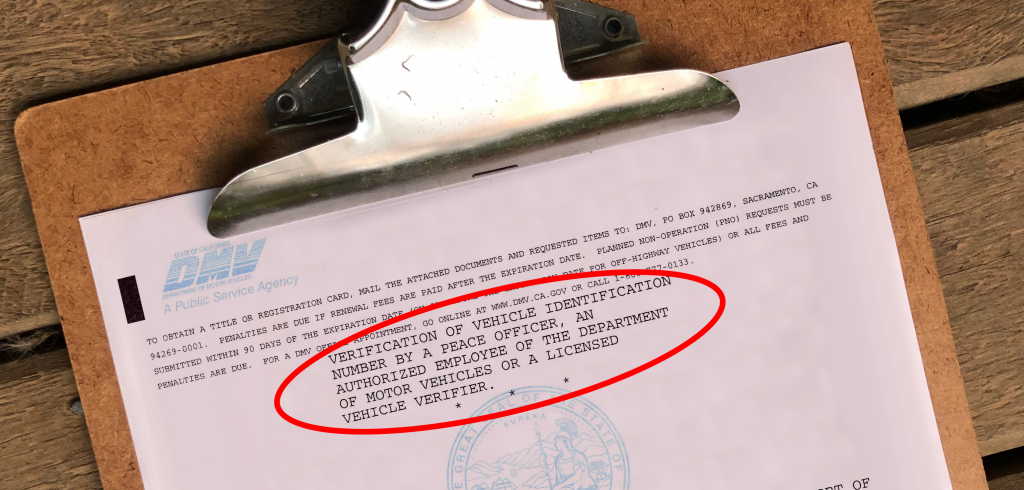 Don't go to the DMV for an hour long line, working with us will save you plenty of time!

We provide Mobile Certified VIN Verifiers that will travel to various locations around Inland Empire for you. Areas include but not limited to:

Temecula, Lake Elsinore, Wildomar, Murrieta, Menifee, Perris, Corona, Moreno Valley, and more!

Please refer to the appointment buttons below to schedule a date for us to meet. If you wish to bring your vehicle to us for the verification, choose the 'Office VIN Verification' appointment. There will be no mobile fee for office appointments.

Text or Call: (951) 223-1050
Email: info@vinverifier.net

The DMV states that a verification of a vehicle is always required for:
– The registration of an Out-Of-State vehicle
– Re-registration of a previous junk/salvage vehicle
– The registration of a specially constructed (SPCNS) motor vehicle
– The registration of a trailer
– A vehicle for which DMV does not have a record
– Recording an engine change, motorcycle engine case change, or change from engine number to vehicle identification number (VIN)
– Title errors based on the VIN.